Positively Flint Positively Flint
Positively Flint
If you type "Flint, Michigan" into any internet search engine, you will quickly find many websites that list the horrible statistics about our city being one of the worst places to live and our crime rate being almost the worst in the nation.
Positively Flint
By Rob Gill

If you type "Flint, Michigan" into any internet search engine, you will quickly find many websites that list the horrible statistics about our city being one of the worst places to live and our crime rate being almost the worst in the nation. You will also find a variety of news stories featuring one of the many gruesome happenings in the area or a Flint connection to a terrifying national news story. If you go to the next page of the search, you may find a couple of websites talking about Flint city politics and there will definitely be a site or two about Michael Moore or his Roger & Me movie.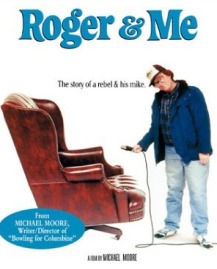 But if you have the patience to move on a few pages in to the search, you will begin to find some brighter stories. If you search long enough, you will be able to read about how the Whiting is bringing in national comedians like Martin Short and Margaret Cho or about the work of a the organizations renovating downtown. Yes it is a fact that Flint was once officially rated the nation's worst overall city to live, but things have changed since then. In the twenty-five years since that survey, the city, county and state have put together many projects in order to bring some culture and leisure possibilities to our area. I have lived in the area nearly all of my life and in the city of Flint for the last few years and I have quickly realized that if you can get past all of the hype, this isn't such a bad place to live.



A Positively Flint Saturday - Fruits, Vegetables & Hot Rods

This past weekend was a great weekend for many people in the city, including myself. My Saturday started off at the Flint Farmer's Market, picking up some needs for a great Sunday dinner.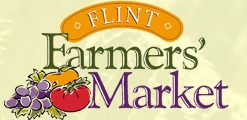 It was a busy day there and the area was alive with the sounds of live jazz music and the smell of barbecue and fresh baked goods. As always, in the open air section of the market, I found booth after booth of locally grown fruits and vegetables, some so fresh that they were picked earlier that morning. The Market is a great place to shop because the people selling this produce are helpful and knowledgeable about their products and most of them will even let you sample the goods. As I walked through the pavilion, I was surprised to find fresh Lake Superior whitefish, along side of the area's best tacos at the El Nopal stand and some really good locally made fudge and candy. As I found out the Market is also a great place to eat lunch, because the path to the vendors inside was lined with huge grills cooking everything from ribs to quesadillas.

Once I was inside of the building, I stopped into D'Vine Wines to take a look around their huge selection of wine from around the globe.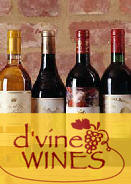 I didn't see any sampling going on here, but I found many local wines as well as some great non-local hard to find choices like a honey flavored Riesling from South Africa that I once had the pleasure of tasting. As I walked from one end of the market to the other I quickly realized that you could find just about anything you could need here. There were several stands selling fresh baked goods, chicken and other poultry, and some great looking steaks in the display cases at Colony Meats. You can also find many arts and crafts items, a small bookstore and a few more choices for a great lunch like Thompson's Creek Turkey Deli and Steady Eddy's Café. The prices are higher than your local supermarket on some of the meat and produce items, but what you need to realize is that the food here is fresh and local, and much of it is organically grown, versus the mega marts, which get much of their goods from other states and even countries and then it is packed, preserved and shipped for you to buy it a week or two later.

So if you haven't visited the Flint Farmer's Market recently (or ever), I highly suggest doing so before things start to wind down at the end of the growing season. If the concept of the "farm to your table" market is new to you as it was to me, just go check it out. It can be intimidating at first, with all of the choices and the different varieties of produce, but there are people here to help you and many of them will even let you sample and taste the difference.
Until you have tried it you cannot even imagine how good much better fresh food tastes when you are used to the supermarket. So, just go check out the market and even if you are not ready to start paying the extra money to enjoy better quality food, walk around and take it all in. There is so much to smell and taste here; it is a great place to spend an afternoon. The Flint Farmer's Market is located at 420 E Boulevard Drive and is open year round 8 AM to 5 PM on Tuesdays and Thursdays, 7 to 5 on Saturdays, and the open air pavilion is open 8 to 4 on Sundays. Check them out on the web at www.flintfarmersmarket.com or call (810) 232-1399 for directions or information on special events such as wine tasting and cooking demonstrations.

From there we headed a little further downtown to check out the third annual "Back to the Bricks" car show. We easily found a parking place and started our walk near Mega Coney Island.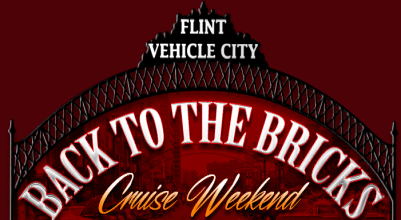 Things didn't seem very busy as we walked up to Saginaw. It was relatively calm down near the riverfront. There was a gospel concert going on at the amphitheater and a local church was cooking up hot dogs in front of the Character Inn. The bridge was lined with newer cars and a few motorcycles, but it wasn't until we ventured further down past the bridge that we realize what was really happening down here on this day. Looking south on Saginaw, the street was jam packed with classic cars and trucks, along with vendors selling food and souvenirs and thousands of people. It didn't look like Flint. I have never been here on a day when there were so many people having fun. "Back to the Bricks" chairman Al Hatch estimates that the three day event brought over eight thousand cars and fifty thousand spectators to Flint this weekend. That is amazing. The only Flint event bigger would be the Crim, and with that coming up this weekend, downtown business must love things right now. We walked south about a mile and passed car after car and watched as the thousands of people having a great experience in Flint.

We grabbed a snow cone, and headed back. The air was a perfect seventy-five degrees and the sun was shining on Flint that Saturday and we should all be proud of the people that worked hard to put this event on. For three days, there seemed to be no blight in the city and the residents and even the politicians got along. There was no reported violence and I hope that next weekends Crim Festival of Races can be just as perfect for the city.


Flint Talk Writer:
Rob Gill


Rob Gill
I am a chef and food writer. I've been trying to survive here in Flint and the surrounding area most of my life. Learn more at...
http://www.myspace.com/rob12345dora123
Fine food in Flint? Eat at Makuch's...
http://www.myspace.com/redroosterflint